Hilliard OH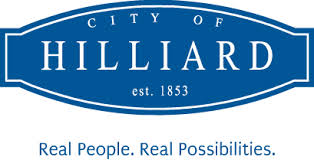 Hilliard is a city in Franklin County, Ohio, United States. The population was 28,435 at the 2010 census with a census estimate of 30,564 in 2012. It is a suburb of Columbus, Ohio and part of Norwich Township
Hilliard is located at 40°2′4″N 83°8′34″W (40.034310, -83.142678).[6] It is bordered on the east by Columbus and Upper Arlington, on the north by Columbus [7] and Dublin, on the south by Galloway and Columbus, and to the west lies open farmland. Downtown Columbus lies in a distance to the southeast, its skyline visible at times when crossing bridges. The only major highway that runs through Hilliard is I-270, which runs north and south slightly east of the middle of the city.
According to the United States Census Bureau, the city has a total area of 13.34 square miles (34.55 km2), of which 13.17 square miles (34.11 km2) is land and 0.17 square miles (0.44 km2) is water.[1]
As of the census[3] of 2010, there were 28,435 people, 10,198 households, and 7,612 families residing in the city. The population density was 2,159.1 inhabitants per square mile (833.6/km2). There were 10,637 housing units at an average density of 807.7 per square mile (311.9/km2). The racial makeup of the city was 88.5% White, 3.0% African American, 0.2% Native American, 5.6% Asian, 0.8% from other races, and 1.9% from two or more races. Hispanic or Latino of any race were 2.3% of the population.
There were 10,198 households of which 44.5% had children under the age of 18 living with them, 61.8% were married couples living together, 9.2% had a female householder with no husband present, 3.7% had a male householder with no wife present, and 25.4% were non-families. 21.2% of all households were made up of individuals and 7.9% had someone living alone who was 65 years of age or older. The average household size was 2.77 and the average family size was 3.26.
The median age in the city was 35.9 years. 30.1% of residents were under the age of 18; 6.4% were between the ages of 18 and 24; 28.7% were from 25 to 44; 26.2% were from 45 to 64; and 8.6% were 65 years of age or older. The gender makeup of the city was 48.8% male and 51.2% female.
---
Hilliard OH Featured Homes for Sale
---
Hilliard OH School Reviews
Area School Information
Displaying schools in Hilliard